The Cani 5Os
Who are they
Alison
At 53, I started Cani-cross and I am hooked. First year was spent trying to keep up with everyone else. I got better but was a plodder, so frustrating. Last year I started off with an online training plan and haven't really looked back since. I'm fitter, faster and thinner than I was. I lost a lot of weight, dropped a dress & have taken 7 mins off my 5K PB which I never dreamed would be possible. Jazz absolutely adores it & we have so much fun running together. She even works better now that I run a bit faster. One of my greatest achievements is thinking that peeing in bushes & behind trees is now normal.
Elaine Our newest member
Me and Bram started Cani-fit classes when he was a year old back in 2015. Our nearest class was at Lochwinnoch. 
After being "sporty" at school when you leave and it's the 80's there is a lot more interesting things going on! I started running (well jogging) again around 2000
After failing to attend gyms and realised it was the outdoors I loved best. When Bram (our Sprocker) came into our lives in 2014 life got even better and I had a running partner a year later.
It's never too late to start and the best thing about cani-cross is you feel like a runner not a jogger with the best partnership you can ever have. Over 50 and things start to ache a bit more but run with your dog and you think you're 30 again ….until you stop!
Janette
My history is coming to running at 47. Enjoying long distance running, completing an ultra marathon then knackering my knee. Being told not to run again but who ever listens to doctors. Decided to run 5k instead and after meeting Claire (Floyd) at Parkrun became interested in cani-cross. I've not attended as many classes as I would like but when I make it I'm always made welcome.

Heather
I started cani-crossing at 50. I had a rescue dog that couldn't be off lead and I wanted to exercise him in a way that also used his brain and built his confidence. I attended Cani-Hike classes 1st then moved on to running Cani-fit. Prior to that my last competitive run was at school sports day circa 1979 before becoming lost in a fog of fag smoke for 30 years. I replaced the cigarettes with food a few years ago. I'm 5 foot high and way wider than I should be so not your typical runner's physique! I run with my pointer cross Rory. He is a live-wire and absolutely loves it. My Hound boy Meikle is more laid-back and enjoys the Cani-Hike class more. At the end of the day I have tired, contented dogs.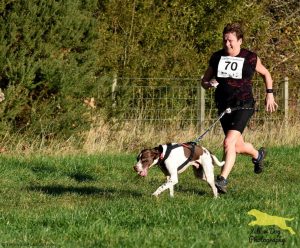 The History of the Can 5 0s
At the end of a Cani-Fit class at Irvine Beach in January 2018, 3 women stood chatting about how much they had enjoyed the class, gave each other knowing looks about how it felt to always be at the back of the group, trying to keep up with the younger runners and their New Year resolutions to lose weight, get fitter and get out more.
They decided to try to get together outwith class times for social runs with their dogs. Although they all lived in different areas – Ayrshire, Inverclyde and Renfrewshire they agreed a central point at Lochwinnoch that they could all drive to in 25-30 minutes.
A group chat was set up and after a comment about our 3 very unglamorous but grinning faces staring out from a very badly taken selfie we innocently became the Gleesome Threesome ( DO NOT Google that from your work's pc )
We recently renamed the group the Cani – Fifties (or the Cani Five Os – queue the Hawaii Five O theme music, it's actually a good wee pace making tune!)
What we do
We started meeting up on Monday nights running slowly, sometimes hiking or just walking and comparing notes on which body parts were giving us the most gyp that week. Sometimes we talk about our home or work life but mostly we talk about our greatest loves, our dogs. The ones we've loved and lost, the ones we have just now and those we might have in the future.
We run in all weathers and the Beast from The East or the hottest summer in 70 years didn't deter us from getting out and having a go – even though we had to leave the dogs at home sometimes. There's been plenty of times when we arrive at the car park mumbling that we cant be bothered or moaning " Whose idea was this?!" But once we are done we are always in a much improved mood and feel better for doing it.
Achievements
We individually regularly attend Cani-Fit and Cani-Hike classes close to our own areas. Janette also runs with Jogging Buddies and we sometimes join the Clydeside Cani-cross social group for a run at Pollok Park.
Inspired by Alison's great results from Cani-Fit's Online Coaching last Spring, Janette and Heather signed up too and we all improved out cani-cross technique, strength and fitness and got faster.
Feeling more confident we started to enter events and races. Some competitive and others for fun. We have had a few podium places in our age group ( a 1st and a couple of 2nds), a Best Newcomer, Muddiest Pair after an epic face plant by Janette and the much coveted Best Beard won by Alison's girl Jazz – it was seriously the best prize of the day!
We meet up in a supermarket car park early in the morning; load all our gear and the dogs into one car and set off. We egg each other on and take the rip out of each other- always in jest and we have a great laugh. Mostly at ourselves and whatever hilarious calamities befall us that day e.g. how many times we got lost, bust bras and escaped boobs. At the end of 2018 we welcomed Elaine and Bram into the gang as kindred spirits.
Every one of us started 2019 with a new PB time for a 5K run which is pretty amazing. Just proves we can't stop getting older but we can still get faster, fitter, stronger.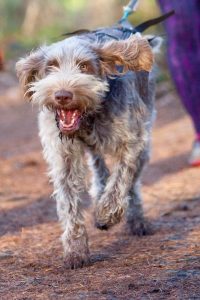 Challenges
Apart from remembering to bring all our kit and always having to plan our excursions around the availability of the nearest loo – pelvic floors not being what they once were, our main challenge is not having enough days in the week to do everything we want to, but who has? Ironing is over-rated. Stop doing it so much and make time to run.
Between us we have the following health conditions: Asthma, COPD, Plantar Faciitis, Carpal Tunnel Syndrome, Rheumatoid Arthritis, Middle Age Spread, Failing Eye Sight etc, etc…..
Not to Mention the "M" Word! So just normal for our age really.
We are not fitness fanatics. We have a chocolate peanut addict who eats Chinese takeaways several times a week, a caramel loving coffee guzzler and a couple who like a wee vino or G & T at the weekend.
Goals
Basically to keep getting out and enjoying time with our dogs and great company. We think others are really missing out and should give it a try. It's a fantastic sport that has brought us new friendships and helps our dogs enjoy life to the full.
For 2019 we have decided to challenge ourselves and have an adventure once a month e.g. go somewhere new for a run, hike or walk. Maybe run a longer distance.
Longer term we need to plan for our successors – we've already had a few enquiries from some 40 something ladies lol
And of course we need to start planning what the Cani 6 Os are going to get up to!
The path ahead is always more appealing when viewed between a pair of rapidly flapping dog lugs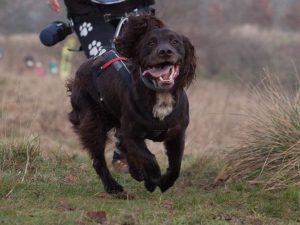 Its never too late to join Cani-Fit , our Cani-Hike classes are perfect for those not wanting high impact like the Canicross running classes. Why not come along and give it a go. Check out our classes via here