Cani-Fit, the original dog and human fitness company!
We're based in Scotland but train people from all over the world.
Cani-Fit originated in 2011 after founder Lindsay realised there was a gap in the market for people who want to improve their fitness, exercise their dog and train their dog in sled dog sports. Cani-Fit has grown from strength to strength; going from Lindsay training other people's dogs, to today's enthusiastic team of leaders taking classes across Scotland.
We deliver top quality fitness training classes teaching you and your dog how best to Canicross, Cani-Hike, Bikejor and Scooter. We host events, races and are also the founders of Ruff Dugger!
As well as training newcomers and experienced runners alike, we also deliver professional training courses and help others become leaders in the field.
Cani-Fit have a huge wealth of knowledge and experience with National/World Champions in sled dog sports. Training, running with and developing dogs' fitness is something we live and breathe!
We hope to share our passion with others and educate how best to work with your dog for the long run.
If you are thinking of getting fit with your dog, then as we say at Cani-Fit… Just Dae It!
The Team – Our Instructors know fitness and dogs!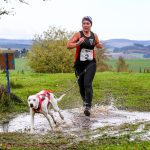 Lindsay has been involved in Sled dog sports for 13 years. Struggling to find a training club that would allow her to train with her dog to get race fit, she decided to set up her own. With the help of a couple of canicrossers locally Cani Sports Scotland found its feet. Spending more time training, racing, learning, mushing in Canada, training others – than actually working she soon realised it was time to take the plunge and offer a service no one else was offering – fitness training for the human and dog! And so Cani-Fit was born in 2011.
Accomplishing canicrossing 96 miles of the West Highland Way, winning several national championships and taking podium in 95% of races she has attended, it is safe to say her own Cani-Fit experience has gone from strength to strength. She has Suko to thank for a lot. He has been the ultimate teacher, mentor , training partner and pal!
"Now we have Mini-Fit (Evan), I cannot wait to see what the future has to bring". Just Dae it!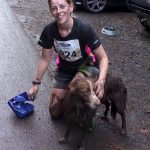 I've always enjoyed running but I'm a recent convert to Canicross. I got Daisy, an energetic rescue collie and started attending my nearest Cani-Fit class – it's really helped her socialise. I'm fitter than I've been for years, because it's a class I really can't wait to do every week. We enjoy it so much that I wanted to bring a class to my local area. So that's what I'm doing.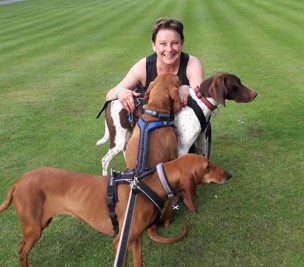 I started canicrossing in January 2017. I had a rescue dog that couldn't be off lead and I wanted to exercise him in a way that also used his brain and built his confidence. I attended Cani-Hike classes first then moved on to running. Prior to that my last competitive run was at school sports day circa 1979. I'm 5 foot high and way wider than I should be so not your typical runner's physique! I run with my pointer cross Rory. He is a live-wire and absolutely loves it. My Hound boy Meikle is more laid-back and enjoys the Cani-Hike class more. At the end of the day I have tired, contented dogs.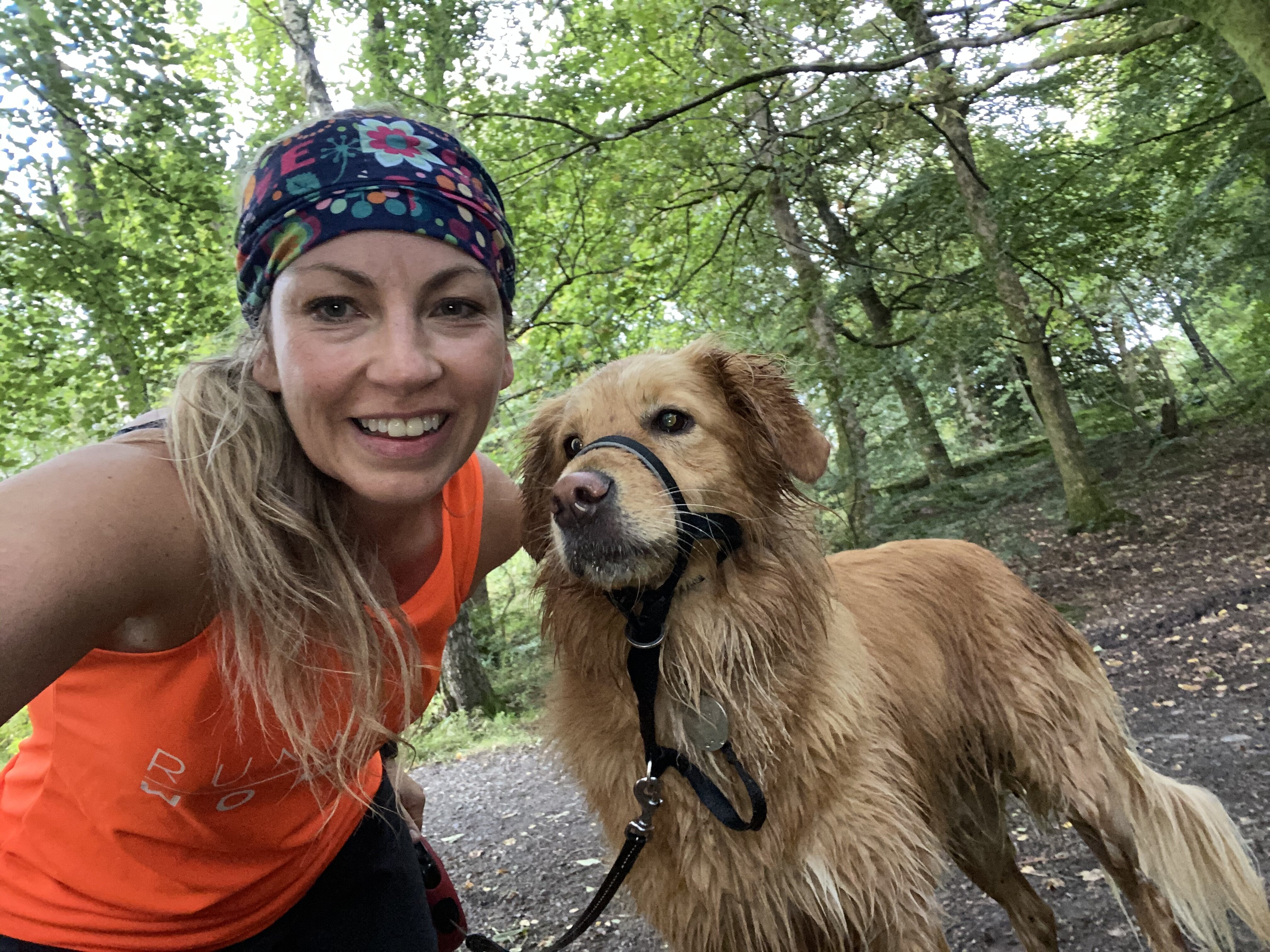 I'm Rhona and my dog is Roxy.  I've always run but never particularly enjoyed running, until I started canicross that is!  A friend suggested I look up this thing called canicross just after I got Roxy, I spent the whole night googling it and by the next day had booked us onto our first Cani-Fit class.  After one class we were hooked, what a buzz! Since then we have been to numerous races and whilst I have never been the sporty type or the least bit competitive (or fast!) I just love the fun, the atmosphere and the friends I've made through canicrossing.  It has been amazing for Roxy, she took to it right away.  As a rescue she had no recall and little socialisation therefore it was just a brilliant way for her to run off her energy yet bond with me as part of it. 
Seriously it is the best fun you can have with your dog!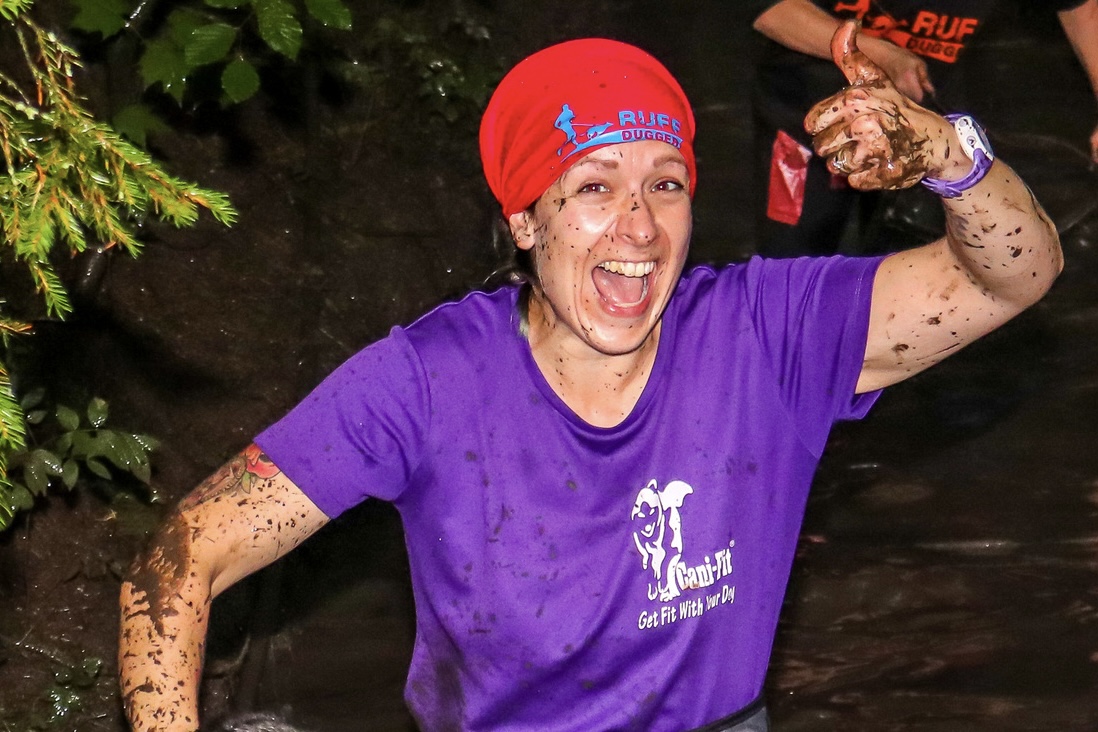 Hey, I'm Leigh-Ann, an enthusiastic canicrosser with my two running and training buddies Leia and Bonnie.

I came to my first Cani-fit class with Leia in September 2017. I was training quite hard in the gym at this time, and looking for a way to save myself some time. I thought this would be a great way of combining cardio and exercising my dog, rather than doing these separately. From the first class I was hooked! Quickly the time saver became my main focus and all the strength and conditioning I did was cross training for this, my favourite form of exercise. I mean, having my best four legged buddy as my training partner, what could be better?
Fast forward 4 years, a second training partner in Bonnie, couple of races, few ruff duggers, loads of classes, canicross focused training plans and loads of like minded new friends, I have now completed my leader course. I'm joining Team Cani-fit in Ayrshire to bring Saturday morning running and hike classes on some of my favourite trails in the 'Shire. Looking forward to sharing my love of canicross with others!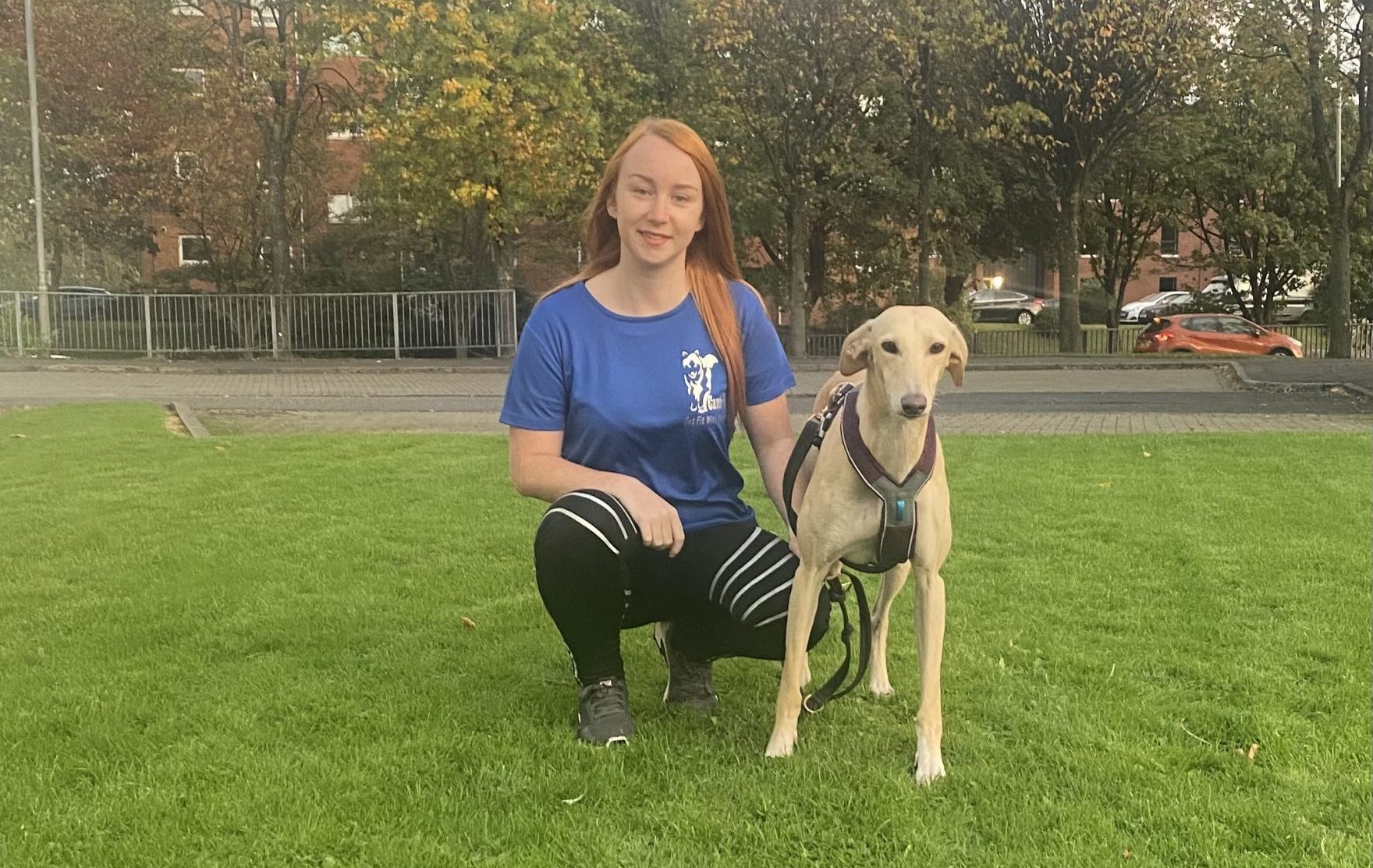 I'm Jane and this is my current foster dog Amber. I am one of the new Cani-Fit leaders and I will be focussing on hiking classes in and around the Glasgow area. I first joined a Cani-Fit class with my resident dog Lilly who can be dog reactive and we were both made to feel welcome by a great bunch of people. This really helped me to build my confidence with Lilly and allowed her to gain socialisation with other dogs. Since then, I have really enjoyed getting fit and having some fun with my dogs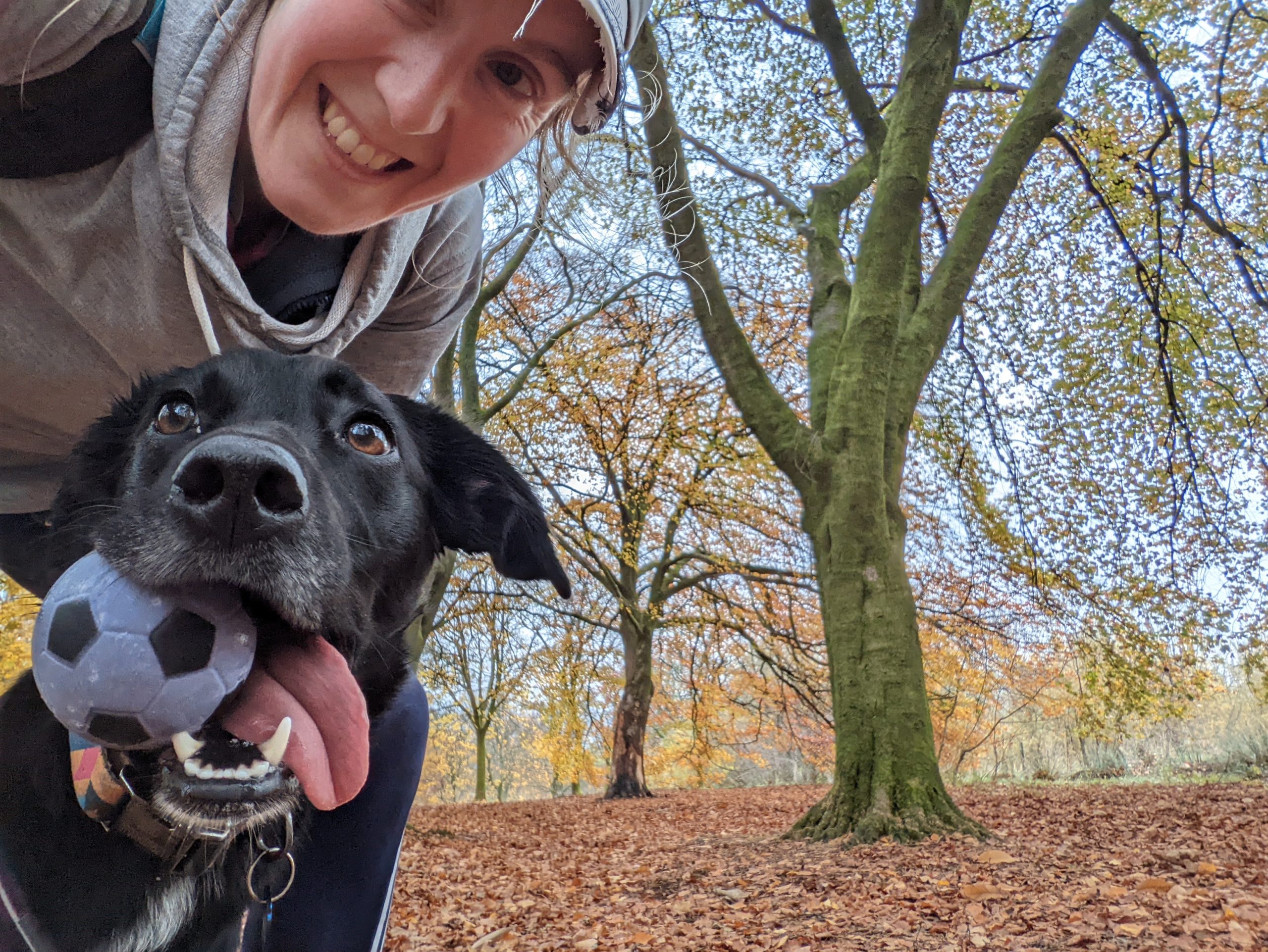 Hi, I'm Joy and a quite recent convert to canicross with my little rescue dog Juno.
Running was only ever something I'd done occasionally as cross-training and found quite hard, so I was apprehensive for my first Cani-Fit class! Turned out, I needn't of worried, it was such a friendly and supportive environment, that we got hooked. Its a great outlet for Juno's energy and it has really increased her general confidence around other dogs. For me, running is no longer a chore, its actually quite good fun.
Now as a leader, hopefully we can help provide that support to others as they start or continue their journey, who knows where it might lead!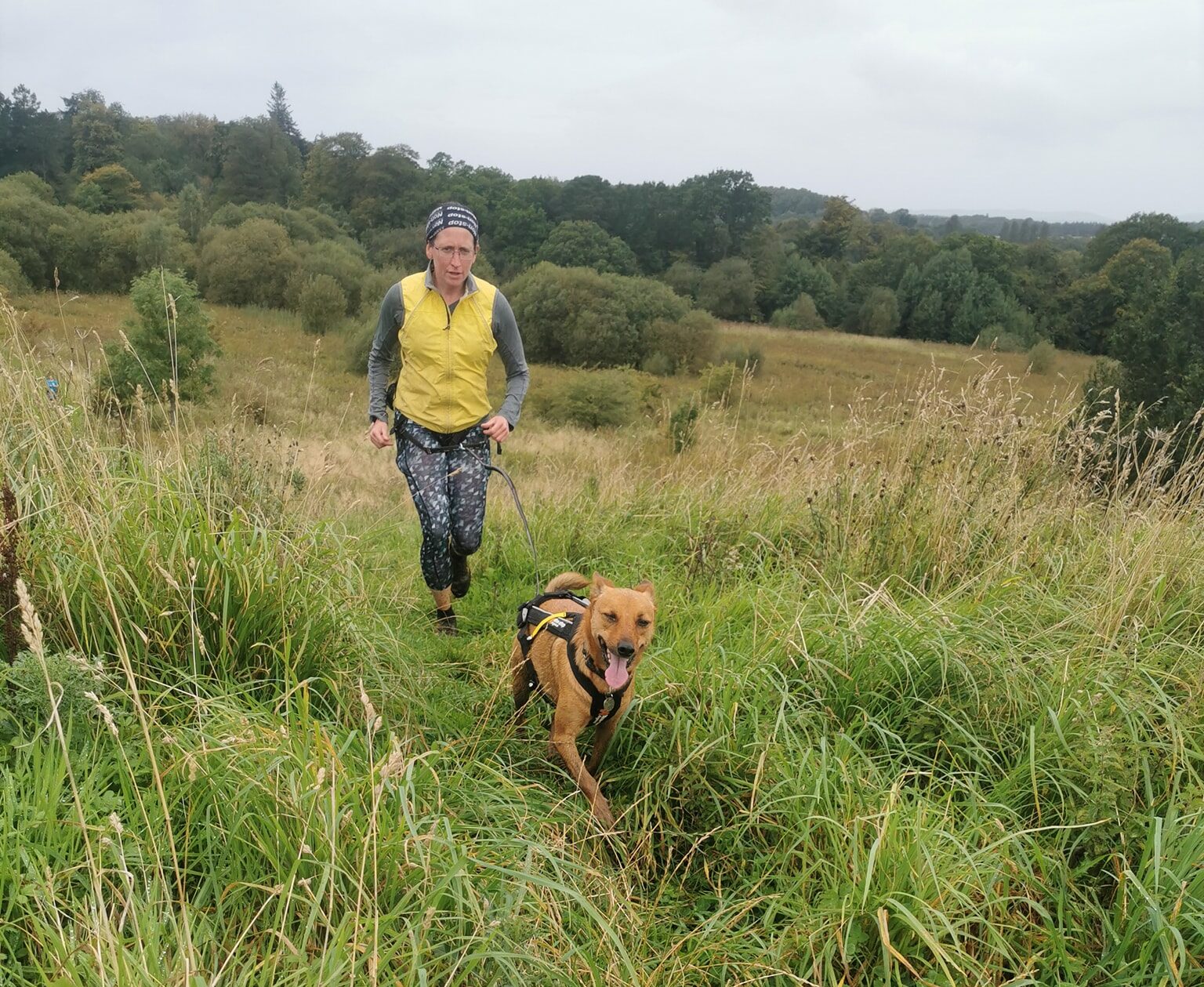 My introduction to canicross is a bit different from most people's entry to the sport. I borrowed my friends' dog to try canicross on a bit of a lark and we fell in love with the sport. Several years of running and training with them convinced me I had the time for dogs of my own. Now, I run with my dog Foxy, a podenco cross. He joined the family during the Covid lockdown thanks to a Cani-fit Virtual Challenge. His wee sister Luna, a mini Jack Russell, is not super keen on running but loves a wee adventure. She makes guest appearances on fair weather hikes.!