About Us
Cani-Fit, the original dog and human fitness company!
We're based in Scotland but train people from all over the world.
Cani-Fit originated in 2011 after founder Lindsay realised there was a gap in the market for people who want to improve their fitness, exercise their dog and train their dog in sled dog sports. Cani-Fit has grown from strength to strength; going from Lindsay training other people's dogs, to today's enthusiastic team of leaders taking classes across Scotland.
We deliver top quality fitness training classes teaching you and your dog how best to Canicross, Cani-Hike, Bikejor and Scooter. We host events, races and are also the founders of Ruff Dugger!
As well as training newcomers and experienced runners alike, we also deliver professional training courses and help others become leaders in the field.
Cani-Fit have a huge wealth of knowledge and experience with National/World Champions in sled dog sports. Training, running with and developing dogs' fitness is something we live and breathe!
We hope to share our passion with others and educate how best to work with your dog for the long run.
If you are thinking of getting fit with your dog, then as we say at Cani-Fit… Just Dae It!
The Team – Our Instructors know fitness and dogs!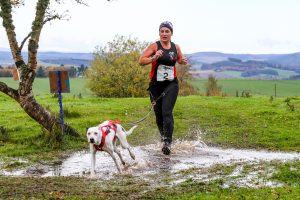 Lindsay Johnson
Lindsay has been involved in Sled dog sports for 13 years. Struggling to find a training club that would allow her to train with her dog to get race fit, she decided to set up her own. With the help of a couple of canicrossers locally Cani Sports Scotland found its feet. Spending more time training, racing, learning, mushing in Canada, training others – than actually working she soon realised it was time to take the plunge and offer a service no one else was offering – fitness training for the human and dog! And so Cani-Fit was born in 2011.
Accomplishing canicrossing 96 miles of the West Highland Way, winning several national championships and taking podium in 95% of races she has attended, it is safe to say her own Cani-Fit experience has gone from strength to strength. She has Suko to thank for a lot. He has been the ultimate teacher, mentor , training partner and pal!
"Now we have Mini-Fit (Evan), I cannot wait to see what the future has to bring". Just Dae it!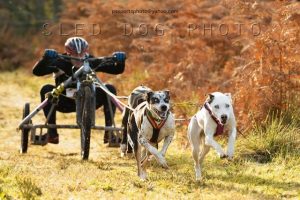 Keith Johnson
Keith has been involved in Sled dog Sports for over 20 years now, with more experience than you can shake a stick at he is the UK's most successful musher – his achievements are yet to be matched. Cani-Fit has kept his interest in the sport, kept him fit, moved him from running big teams to single or double dogs in Scooter/Bikejor and the odd attempt at Canicross when his ankles allow. It has also given him a lot of hard graft, setting up, clearing up trails and covering classes when Mrs Cani-Fit had the cheek to take maternity leave. Keith plays a massive part in the business with creative ideas on dog training, trail designing and lesson structure. He enjoys a cake and some time off which he has been promised on his 50th Birthday! In his own words "Cani-Fit has been some grafting , but has brought me something better than my three World Championship Gold Medals, my wife and son."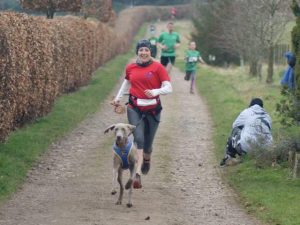 Linzi Melville
My name is Linzi and my dog is Indie. Some of you may know me from cani-cross races and CSE. I've cani-crossed for a few years and love running with my dog as my teammate! We're looking forward to helping you learn and love cani-cross!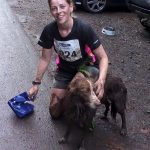 Joanne
I've always enjoyed running but I'm a recent convert to Canicross. I got Daisy, an energetic rescue collie and started attending my nearest Cani-Fit class – it's really helped her socialise. I'm fitter than I've been for years, because it's a class I really can't wait to do every week. We enjoy it so much that I wanted to bring a class to my local area. So that's what I'm doing.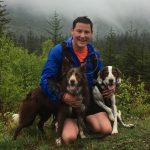 Andy Cochrane
I was introduced into the world of Cani-sports by my wife who took our rescue dog Daisy along to develop their bond, exercise and socialise her. I began going to classes borrowing a friends dog and immediately loved it. Earlier this year we rescued Ed a very high energy pointer cross and with time and patience he is developing into a great Cani-sport dog. Along with running we have tried scootering and bikejor and hope to race at this for the first time this year. I have learned loads at the classes and now hope to be able to educate and encourage others into the sport. Ed is the perfect partner and we have both become faster and stronger training together.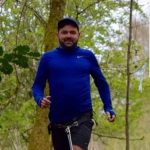 Brian Stirling
I first came along to Lindsay's taster session and absolutely loved it. From there on I've been all over the country at different races and events and now after four years going to classes, I recently took part in the Cani-Fit leader course. So looking forward to joining the team and teaching others.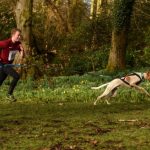 Fionn Innes
I was introduced to Cani-Fit through a friend, who suggested I give it a go with my dog, Dino. I've never been a runner, but since attending my first Cani-Fit class in September 2017, I've been absolutely hooked. Dino and myself are now fitter than we have ever been before, and I've now found a sport that I'm excited and enthusiastic about. I wanted to bring Cani-Fit to my local area, as I'm passionate about my town and our many green spaces, and would love to get more people out having fun with their dogs and making use of the fantastic trails on offer. Cani-Fit has been a complete game changer for me, and I hope to bring along my enthusiasm and drive for the sport to my classes.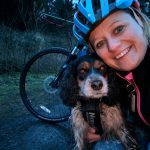 Amy Bissett
I've been coming to Cani-Fit with my little small but mighty Maisie since 2013. We love canicross, bikejor, cani-hiking and also do a bit of mountain biking, swimming, paddleboarding and just generally adventure together! As well as doing lots of behind the scenes Cani-Admin we originally trained as canicross leaders in 2014 but have since progressed onto bikejor.  As well as being an official Cani-Fit Wheels Leader, I am Cycling UK MTB Trail Leader qualified and a Velotech Silver bicycle mechanic. We love bringing the fun, skill and excitement of bikejor to lots of new people!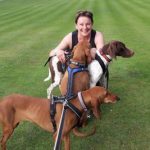 Heather Hopkins
I started canicrossing in January 2017. I had a rescue dog that couldn't be off lead and I wanted to exercise him in a way that also used his brain and built his confidence. I attended Cani-Hike classes first then moved on to running. Prior to that my last competitive run was at school sports day circa 1979. I'm 5 foot high and way wider than I should be so not your typical runner's physique! I run with my pointer cross Rory. He is a live-wire and absolutely loves it. My Hound boy Meikle is more laid-back and enjoys the Cani-Hike class more. At the end of the day I have tired, contented dogs.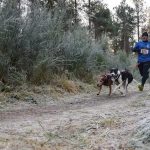 David Harrison
I discovered the world of canisports by chance, when my wife and I encountered a canicross event in our local park. With a high energy beagle-cross who could not be allowed off lead and feisty terrier this seemed like the sport for us. After a bit of internet searching, we found Cani-Fit and following a chat with Lindsay decided we would give it a go. I was not much of runner but since that first class at Mugdock Country Park, I haven't looked back. My dogs and I got fit together doing a sport that we love.  I have taken part in canicross races and events, made new friends and improved my bond with my dogs. In 2019 I decided to train to be Cani-Fit leader to share my enthusiasm and introduce others to the world of cani-cross.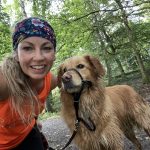 Rhona Stevenson
I'm Rhona and my dog is Roxy.  I've always run but never particularly enjoyed running, until I started canicross that is!  A friend suggested I look up this thing called canicross just after I got Roxy, I spent the whole night googling it and by the next day had booked us onto our first Cani-Fit class.  After one class we were hooked, what a buzz! Since then we have been to numerous races and whilst I have never been the sporty type or the least bit competitive (or fast!) I just love the fun, the atmosphere and the friends I've made through canicrossing.  It has been amazing for Roxy, she took to it right away.  As a rescue she had no recall and little socialisation therefore it was just a brilliant way for her to run off her energy yet bond with me as part of it. 
Seriously it is the best fun you can have with your dog!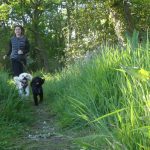 Kate Blackmore
Hi, I am Kate, based way down south in the beautiful South Downs Park. Dogs are my life and always will be. Being a dog groomer, I work with them on a daily basis.
I started canicross in early 2019 with my miniature poodle (Purdy) and my Cava-Poo (Sprocket) who is almost blind. Cani-fit has allowed him to socialise and develop a close bond with Purdy as she has become his eyes.
Being an active outdoors person, to be able to run and work my dogs is great – actually it's better than great – it's all I have dreamed off for years
I look forward to meeting you and having fun during our Cani-fit classes.