Linzi Melville – Cani-Fit leader for Fife, West Lothian and Falkirk
'Come and try canicross. You'll love it!'
This is how it started for me and my dog. A simple sentence but one that's opened up a whole new world for us!
We went, we ran, we thought it was fun. And of course it should be fun. For you and your dog! But I thought we would love it. I wanted to come away thinking 'This is it! I've found a sport my dog and I can do together!' And to a degree we had. But there was always a little niggling thought there should be more to canicross. Like there is more to learning to swim. Or learning to run long distance.
We bought the kit, we ran, we met new people and dogs and it was……fun. But where was the adrenaline rush? Where was the sense of progression and achievement? The endorphins that I'd had when training on my own? I wanted euphoria! I wanted to finish each run feeling like we had improved on our last run.
We entered some races and enjoyed them. There was a sense of achievement but more due to the fact that my dog passed other dogs without pouncing on top of them and that I'd managed to remember my right from my left!
What I craved was structured training. I wanted someone to tell me what I was doing right, what I was doing wrong (there was a lot!) and how to get the most out of our training. I've trained for 5k's, an ultra marathon, all levels of triathlons, dualthlons, swimming, sportives and adventure racing and the difference is I have always been coached. I have had someone pushing me, guiding me and motivating me.
Then I moved over to the dark side of the Forth Bridge to Fife and discovered there was amazing trails everywhere to run on but again no structured training. So I called on the powers of google and, poof! Hello Cani-fit! That was the day canicross changed for us. Structured, progressive training (these 3 words make me feel warm and gooey inside!) proper fitting kit and like minded people!
Better still, they were doing a leaders course. Me! Me! Me! This is for me!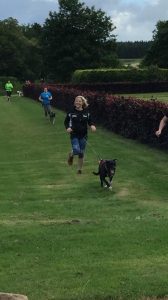 This was just over a year ago now and so much has changed in that year. I now teach canicross to every level from absolute beginners to some of the best canicrossers in Scotland and help people and dogs to LOVE the sport the way I wanted (and now do) love the sport! I spend time choosing trails not because they are pretty but because they offer amazing training opportunities. For instance, Heatherhall Woods is completely flat but has fast technical trails. Falkland Estate is anything but flat and offers amazing strength training. Callander Park and Blairadam Forest offers a bit of everything for great all round training. But the best bit is that these trails are suitable for everyone! I spend time researching new training techniques, new equipment, watching vidoes of canicrossing and comparing different running styles. Cani-fit leaders get together regularly to train together, discuss the progression of the sport and the way we teach you, we go to training camps to help others train, we race, we marshall at races and we go to numerous dog and county shows with our trade stand to spread the Cani-fit love of the sport and make sure you are kitted out in the best fitting kit there is! WE DO NOT STOP exploring and researching and training so that we can train ourselves and you and all our amazing dogs to the best of our ability.
This is what I was looking for! This is the euphoria!
Linzi has a range of classes in Fife and West Lothian available for booking now, click on the link below for more info or to book and catch some of that euphoria for yourself!