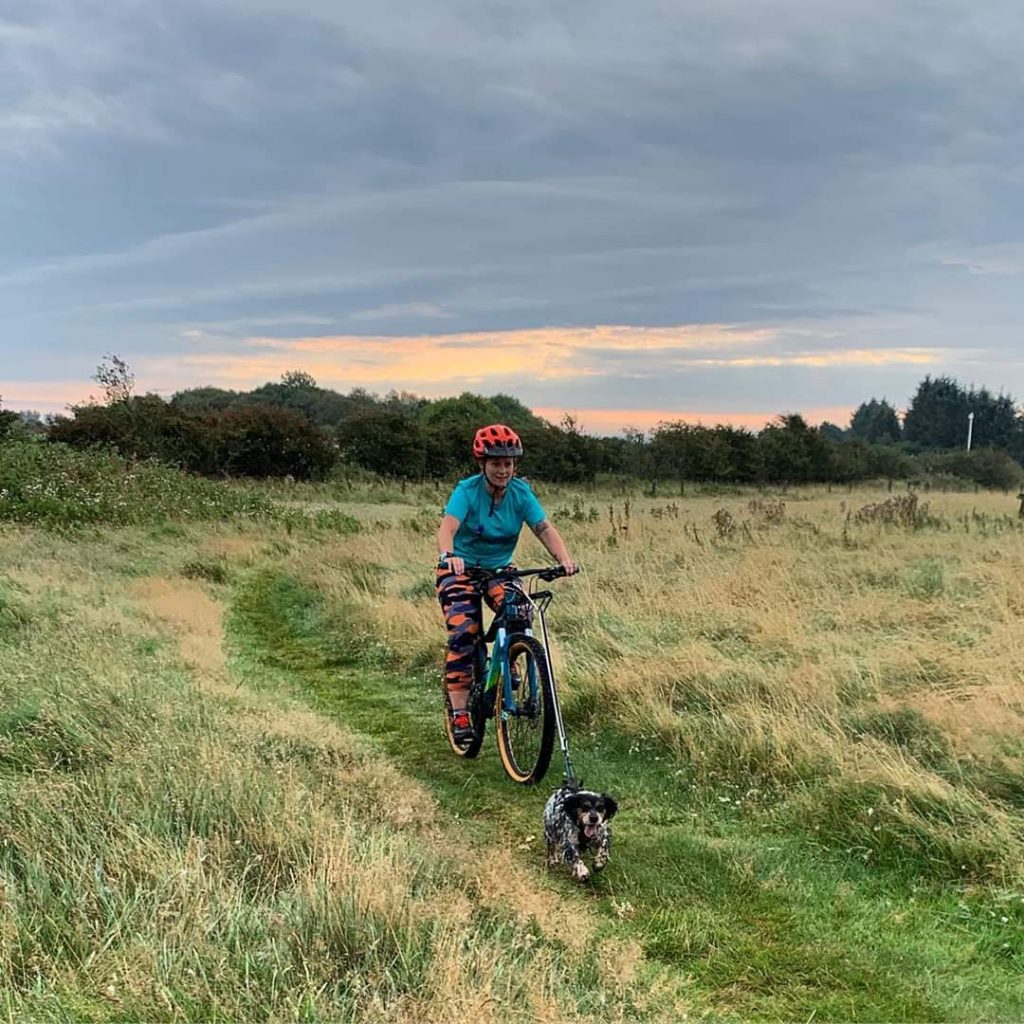 As easy as……. riding a bike?
I'd been a Cani-Fit leader for about a year when a foot injury laid me up for a while. Such a long time actually that I decided to hang up the leader vest and take a 'desk job'. When I realised it was also going to take a while for me to get back to running, I went out and bought myself a new bike with the thoughts that maybe Maisie and I could try some biking. We were missing our time on the trails together.
At the time I wasn't sure if bikejor would be for her – maybe she was too small etc. But I should know better than to doubt the Mighty Maisie! I didn't realise at the time it would be me who would need all the skill training!
I'd previously had, and hated, a wee road bike that I'd bought to do a triathlon. Road cycling was not for me, I sold the bike the week after that triathlon. So with my new hybrid bike I spent a bit of time on some local trails with Maisie free-running and then when I could see that she wasn't fazed at all by the bike, eventually tried bikejor. She was a natural of course but I quickly realised that my bike confidence and skills needed some major work. I wanted to be able to assist my little dog properly, not hinder, or worse – potentially injure her!
I was lucky enough to have a family member who was an experienced mountain biker and was willing to spend some time with me on the trails at my pace and at my level. At first we simply went on some Sunday afternoon cycle path rides but eventually progressed to the trails. With each ride I felt myself getting more confident, my balance and riding position improving and my knowledge growing. Then we started going to the 7Stanes trail centres and I haven't looked back. I can't stress enough how much this time spent just out and about on my bike helped me.
As I began to enjoy the bike more, I looked around for more to do – attended a puncture repair class and beginners MTB skills session at Canicross Midlands summer camp, a full day of MTB skills with Dirtschool at Glentress, a bike maintenance class with the guys at my local bike shop and of course lots of time on increasingly difficult trails. I even managed to complete an off road triathlon and bought a mountain bike…. I definitely caught the bug! Who knew you could need more than one bike?!
In June of this year I had the opportunity to complete my Bikejor Leader course with Cani-Fit. Another full day of bike skills, bikejor and scooter specific learning and more bike maintenance. I was excited to be able to get more people into biking with their dog, especially those who might be feeling a bit like I had – not much in the way of confidence on the bike or lacking in bike skills. I like being able to teach people how to get a solid start in the sport and watching them go off to be great riders and enjoy the trails with their dogs.
I've now actually moved jobs into a role where I help people access cycling as a means of travel. I'm a fully trained Cycle Ride Leader through Cycling Scotland and I'm coaching and encouraging people who need a bit of help getting back to cycling. I'm also working my way towards some bike maintenance qualifications and loving it. So getting into bikejor has ended up shaping my career too. I'm currently eating, sleeping and breathing bike!
My biggest tip if you're looking to getting into bikejor is time out on the trails without the dog attached. Build up those skills so that they are second nature and then you can give your dog your full attention when you do get out together.
I'm going to be running more beginner bikejor and bike skill/maintenance classes with Cani-Fit in the New Year. Hope to see you there!