Cani-Fit – Canicross Leader Training Course
September 11, 2021 @ 8:00 am

-

September 12, 2021 @ 5:00 pm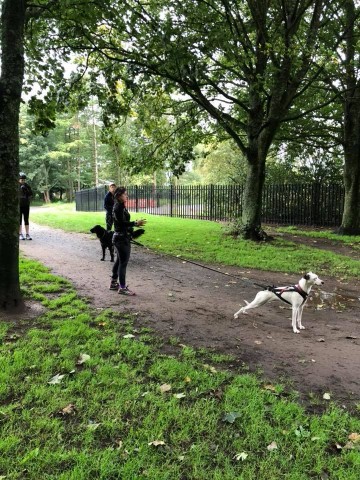 Canicross Leader Training Course, Ayrshire
Canicross Leader Training Course – Course Information
In 2021, canisports industry leader Cani-Fit will be delivering Cani-Fit/canicross leader training. With 48 graduates in canicross leader training (now working throughout the UK), 21 Cani-Fit leaders trained, classes in 27 locations, over 1300 new and retained clients and over 6000 class tickets sold in the last three years alone, Cani-Fit know how to train canicrossers and canicross trainers.
We will be holding our next Canicross Leader Training Course on Saturday 11th and Sunday 12th September 2021. With both practical and theory work, the course is designed to teach you everything you need to know to be able to instruct others safely in the sport of Canicross.
Course content
Saturday 11th Sept  2021
Location: Eglinton Park, Irvine – Dean Country Park, Kilmarnock in the afternoon.
Lunch and snacks will be provided.
On Saturday, we will cover both theory and practical work with sessions including:
Practical work:
direction work
changing your gears
controlling speed
how to fit kit
exercises for dogs
cross training for humans
Theory sessions:
history of Cani-Fit and Sled Dog Sports
equipment theory
trail surfaces
how to structure a class/group session
paw and joint care
hydration and feeding for the sport
Sunday 12th Sept 2021
Location: Eglinton Park and Shewalton Woods, Irvine
Sunday's training includes:
instruction in venue usage: identification of features and how to use these for your class/group session, identification and uses of different trail surfaces, ideas for venue specific exercises, and more
class preparation practical session
teaching practice within a mock class (with other course attendees only)
participation as a class member at a Cani-Fit class led by Lindsay
opportunity to meet with members of Team Cani-Fit and Cani-Fit class members
After an action-packed morning, you will have the opportunity to grab lunch at one of the fabulous eating venues at Irvine Harbourside before heading to Shewalton Woods for the afternoon. Packed snacks and  drinks will be provided for the afternoon.
The session at Shewalton Woods will cover how to identify and mark a race or event trail.
You will be shown what equipment to use, signage, how to mark the trail, how to identify and mark hazards, how to make the trail flow, pitfalls to avoid, marshalling, and more. This session is perfect for those who wish to hold their own events, from time trials through to full race weekends.
Learning in style
Practical work will take place with your own dog on the trails at Eglinton Country Park, Irvine Beach Park, and Shewalton Woods. Theory sessions will be delivered in the comfortable, indoor setting of the Dean Country Park training room. We will break for lunch, and comfort breaks will be given between sections for the dogs.
Who is the course for?
You must have basic canicross experience and have a willing dog in harness. The course is ideal for those running social clubs who wish to develop their training skills, or for those who wish to consider paid canicross training as a business venture. There may be opportunity to come on board as a Cani-Fit leader, if that would work for both parties.
Costs and terms of attendance
The course costs £500.
A deposit of £150 is payable on booking to secure your place. Price includes course (as detailed above), lunch and snacks, gift bag, technical t-shirt, and Course handbook.
Don't delay – book today!
Spaces on the course are strictly limited to ensure excellent levels of individual attention. Contact Lindsay Johnson at info@cani-fit.com for more details or to book a place.
The deposit and course fee are non-refundable, non-transferable, and places cannot be deferred until a later course. All course attendees will require to enter into a Non-Disclosure and Confidentiality Agreement with Cani-Fit.
Course Organiser
Lindsay Johnson
07709 394667